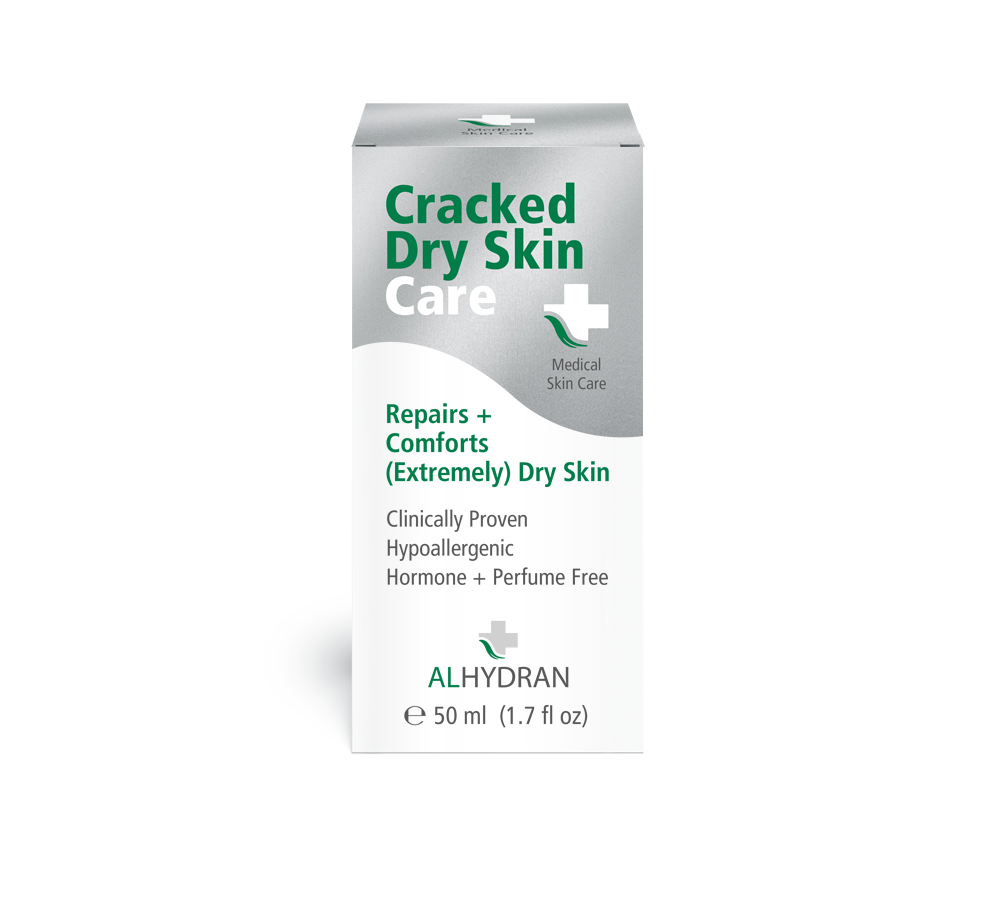 New product – Expected introduction: Q3 2019
Cracked Dry Skin Care is a medical body and face cream which repairs, feeds and soothes (extremely) dry skin.

Instantly soothes dry skin

Intense hydration of the skin

Repairs (extremely) dry skin

Clinically Proven

Hypoallergenic

Hormone + Perfume Free

For body and face
Repairs + Comforts (Extremely) Dry Skin
A medical cream that provides immediate nourishment for (extremely) dry skin. Skin regains suppleness and feels comfortable for a prolonged period. The cream provides optimal and long-lasting hydration, softens, reduces flakiness and soothes the skin immediately. Suitable for all skin types and skin conditions that cause dry to extremely dry skin that requires intensive care.
Barrier Repair Care is part of ALHYDRAN Special Care Products. These skincare products are developed specifically for certain skin problems. Other items within this new product line are: Eczema Care, Barrier Repair Care and Anti Itch Care.

Indications / fields of application
Supports the treatment of (extremely) dry skin
Prevention and relief of dry skin with regular use
Helps prevent or reduce flakiness caused by dry skin
Supports skin that feels tight and needs extra nourishment
Supports the treatment of flaky, cracked skin
As structural support to help prevent (extremely) dry skin
ALHYDRAN Cracked Dry Skin Care, especially developed for nourishing, softening and repairing (extremely) dry skin.
We used the powerful and scientifically proven formula of ALHYDRAN Medical Care for the Skin as the basis. We combined the unique characteristics of Aloe Vera with other high quality, active ingredients.
ALHYDRAN Cracked Dry Skin Care is enriched with Shea Butter, Bisabolol and Panthenol, amongst others. All ingredients contribute to repairing, nourishing and softening (extremely) dry skin and provide immediate relief.
ACTIVE INGREDIENTS
Aloe Vera
Intensive and long-lasting hydration
Shea Butter
Softens and improves dry skin
Bisabolol
Calms the skin
Panthenol
Vitamin B5, hydrates the skin
How to use ALHYDRAN Cracked Dry Skin Care
Apply a thin layer to the affected skin two to three times a day. The cream can be used for a long period of time
External use only
Keep out of reach of children
Do not use on open wounds