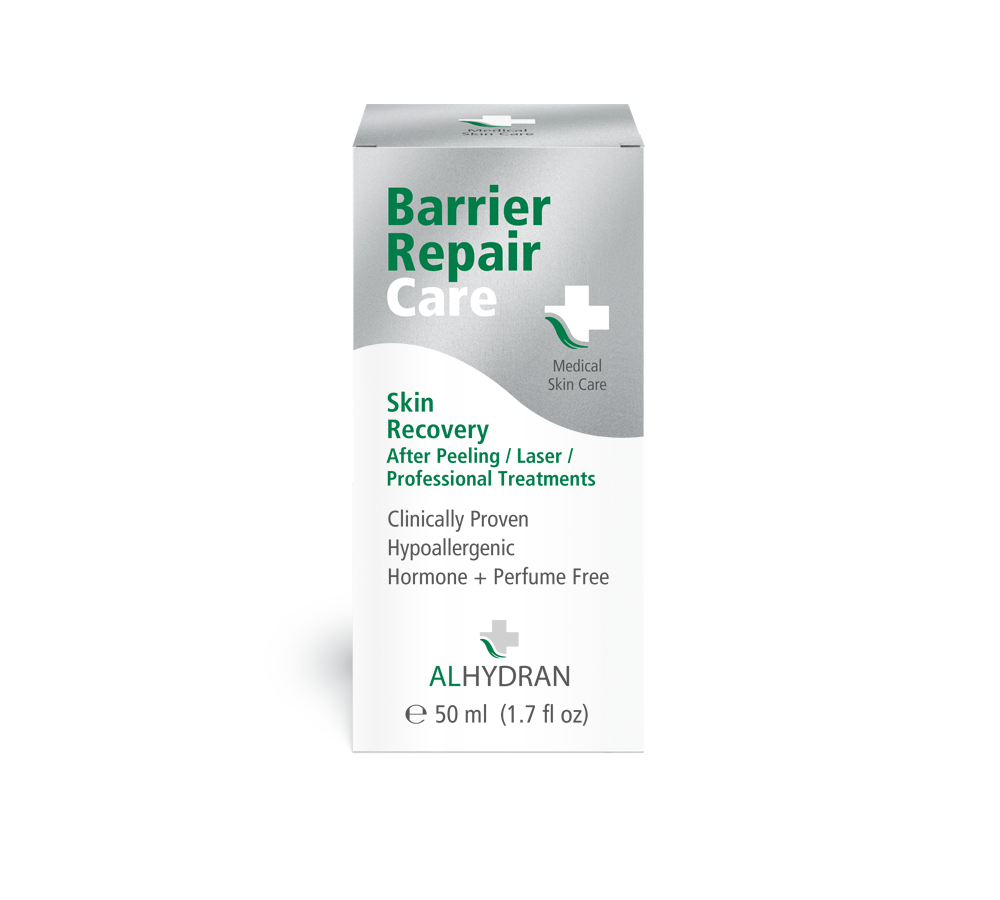 New product – Expected introduction: Q3 2019
Barrier Repair Care is a medical face cream for skin recovery after (medical) treatment. Use it after professional treatments such as peeling or laser therapy.

Repairs & strengthens the skin barrier

Reduces irritation and redness

Soothes reactive & stressed skin

Clinically Proven

Hypoallergenic

Hormone + Perfume Free

Long-lasting hydration

For face only
Skin Recovery After Peeling / Laser / Professional Treatments
A medical cream that balances the skin barrier in the case of damaged skin. The cream provides optimal and long-lasting hydration, softens, strengthens the skin's natural barrier, and soothes the skin immediately. Suitable for all skin types and skin conditions as aftercare for (medical) skin treatments such as peels, laser and other professional treatments.
Barrier Repair Care is part of ALHYDRAN Special Care Products. These skincare products are developed specifically for certain skin problems. Other items within this new product line are: Eczema Care, Cracked Dry Skin Care and Anti Itch Care.

Indications / fields of application
Aftercare support for recently (professionally) treated skin
Aftercare support for damaged skin
Support for irritable or sensitive skin
Support for skin that cannot tolerate most cosmetics
Strengthens the skin (apply as a booster/serum)
Aftercare for recent (professional) skin treatments, for example:
After chemical peels and laser treatments
After medical or cosmetic treatments
After skin treatments with (medical) cosmetics
ALHYDRAN Barrier Repair Care is especially developed for repairing and strengthening the skin barrier after professional (medical) treatments.
We used the scientifically proven formula of ALHYDRAN Medical Care for the Skin as the basis. We combined the unique characteristics of Aloe Vera with other high quality, active ingredients.
ALHYDRAN Barrier Repair Care is enriched with B-Glucan, Bisabolol and Allantoin, amongst others. All ingredients contribute to calming, repairing and strengthening the skin barrier. This cream strengthens the skin structurally and provides immediate relief to the most sensitive skins.
ACTIVE INGREDIENTS
Aloe Vera
Intensive and long-lasting hydration
Beta-Glucan
Reduces redness and calms the skin
Bisabolol
Calms the skin
Allantoin
Reduces irritation and supports skin healing
How to use ALHYDRAN Barrier Repair Care
Apply a thin layer to the affected skin as often as needed. Make sure the skin is clean and dry. The cream can be used for a long period of time.
External use only
Keep out of reach of children
Do not use on open wounds