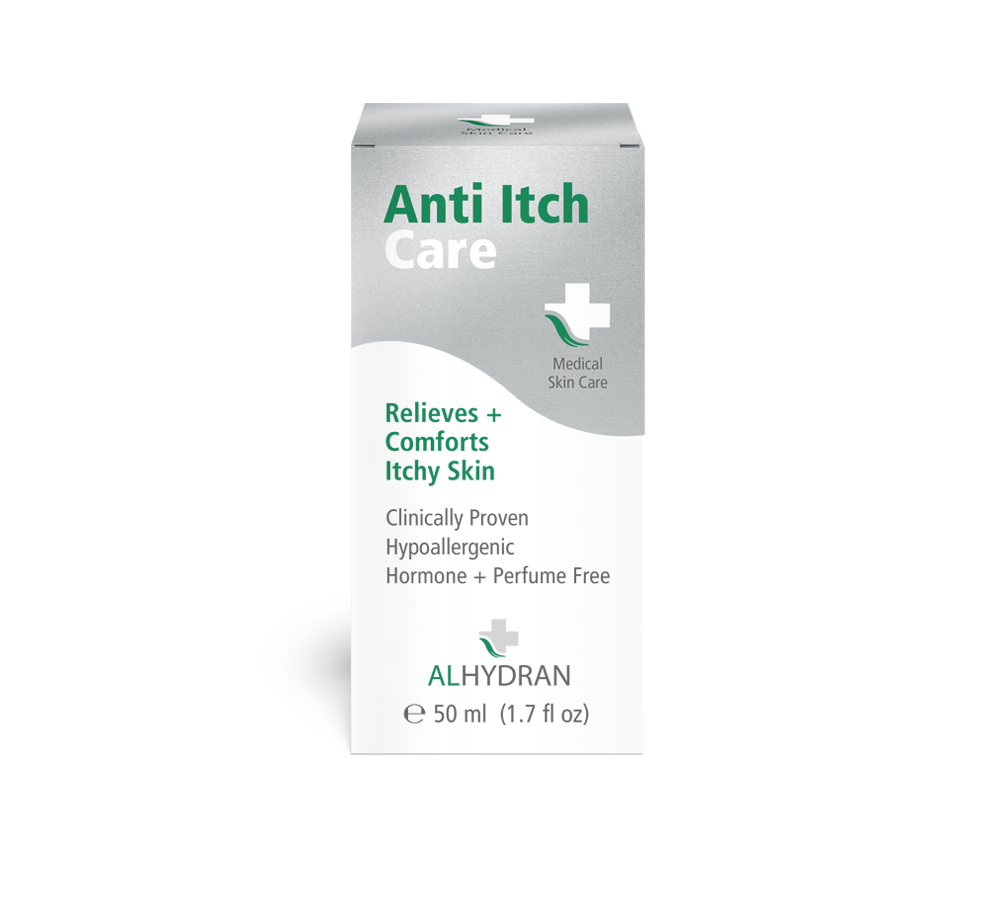 New product – Expected introduction: Q3 2019
Anti Itch Care is a medical body and face cream which relieves and comforts itchy skin.

Relieves and prevents itching

Cools the skin

Intense hydration of the skin

Clinically Proven

Hypoallergenic

Hormone + Perfume Free

For body and face
Relieves + Comforts Itchy Skin
A medical cream that has an immediate cooling effect on the skin and reduces and relieves itching. The cream provides optimal and long-lasting hydration, relieves itching, and cools and soothes the skin immediately. Suitable for all skin types and skin conditions that cause itching.

Indications / fields of application
Relieves itching
Reduces the tendency to scratch
Cools the skin immediately
Supports red, itchy skin
Supports the treatment of irritated skin when relief from itching is desired
Supports the treatment of irritated skin when a cooling effect is desired
ALHYDRAN Anti Itch Care, especially developed for relief from itching. We used the powerful and scientifically proven formula of ALHYDRAN Medical Care for the Skin as the basis. We combined the unique characteristics of Aloe Vera with other high quality, active ingredients.
ALHYDRAN Anti Itch Care is enriched with iCool ML (Menthyl Lactate), amongst others. ICool ML is hypoallergenic and the most skin- friendly solution for relief from itching. Icool ML has a strong cooling and anti-itching effect, but without the allergenic characteristics of Menthol. The combination of ingredients soothe sensitive, itchy skin immediately.
ACTIVE INGREDIENTS
ICool ML
Intensive and long-lasting hydration
Shea Butter
Relieves itching and cools the skin
(non-allergenic alternative to Menthol)
How to use ALHYDRAN Anti Itch Care
Apply a thin layer to the affected skin, as often as needed. The cream can be used for a long period of time.
External use only
Keep out of reach of children
Do not use on open wounds