Products for disrupted skin barrier treatment
Proven effective for several skin disorders and treatments: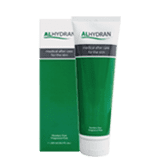 ALHYDRAN
Medical Hydrating Cream
For treatment of the disrupted skin barrier.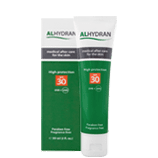 ALHYDRAN SPF 30
High-level sun protection
Medical cream with SPF 30 sun protection (UVA & UVB).
What is ALHYDRAN?
ALHYDRAN is known as a scar cream, but it is much more than that: Our cream is effective in relieving many skin conditions. The powerful moisture-regulating cream ensures optimal hydration, promotes healing of the skin and relieves skin complaints such as itching, dry skin and redness.
The effectiveness has been scientifically proven. As a result of this, the product has been widely used by specialists for more than 15 years.
Do you have skin complaints? Use ALHYDRAN!
Protection and softening of the skin

Less itching, pain en redness

The effectiveness is scientifically proven
Effective for
scars

burn wounds

dry skin

laser treatment

radiotherapy

wounds