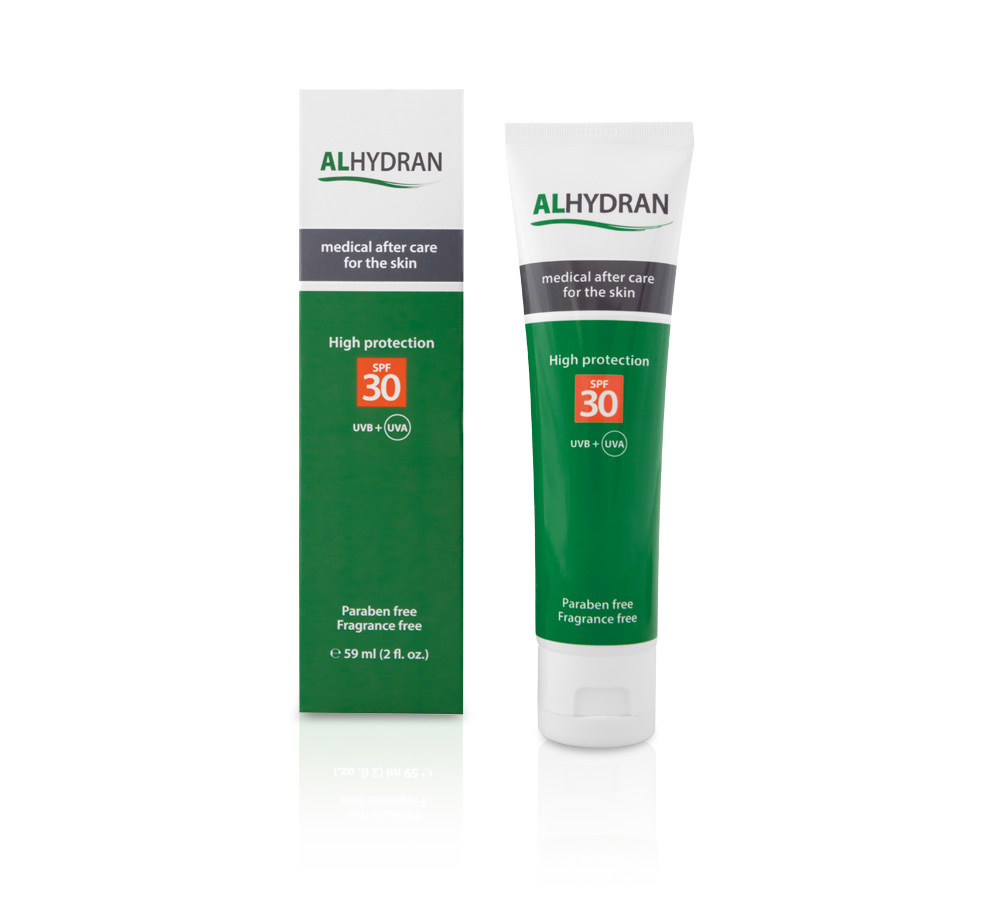 ALHYDRAN with high-level sun protection. Medical hydrating cream offering protection against UVA and UVB rays (SPF 30). ALHYDRAN provides optimal and long-lasting hydration and prevents moisture loss.

High-level sun protection (SPF30)

Broad Spectrum UV protection (UVA & UVB)
ALHYDRAN with high-level sun protection
The sun's rays are healthy for humans, but also potentially dangerous. There are two types of sunrays: UVB and UVA. (Extensive) exposure to UVB rays can lead to sunburnt skin. (Extensive) exposure to UVA rays accelerates skin ageing and can result in over-sensitivity to sunlight and hyperpigmentation (pregnancy mask, other discolouration). Both types of rays can affect cell DNA and, in the long term, contribute to the development of skin cancer.
ALHYDRAN with sun protection has an SPF factor of 30 and protects against UVB as well as UVA rays. The cream can be used on normal skin, for (after) care of burn wounds, for (prevention of) scars and on (extremely) dry skin. It helps minimise itchiness and redness.
ALHYDRAN is hypoallergenic and contains no parabens or aromas. Suitable for all skin types. Not tested on animals.

Indications / fields of application
Relieves itching
Reduces the tendency to scratch
Cools the skin immediately
Supports red, itchy skin
Supports the treatment of irritated skin when relief from itching is desired
Supports the treatment of irritated skin when a cooling effect is desired
ALHYDRAN is a medical cream with a base of freshly manufactured Aloe Vera Gel. Aloe Vera gives the cream strong moisturising properties and a mildness particularly suitable for damaged and vulnerable skin.
The other ingredients of the ALHYDRAN product line contain a high level of high-end cosmetic oils and fats, which further contribute to the general moisturising characteristics of the product. ALHYDRAN makes the skin supple and elastic, and is particularly suitable for skin types with reduced elasticity.
ACTIVE INGREDIENTS
Aloe Vera
Intensive and long-lasting hydration
Vitamine E
Antioxidant
Vitamine C
Antioxidant
Natural oils, like Jojoba oil
Enhances skin's regenerative properties
How to use ALHYDRAN SPF 30
Instructions for use, to achieve good sun protection
Apply well in advance.
Apply liberally. About 6 teaspoons are required to fully protect an adult body.
Regularly reapply (every 2 hours). Especially after swimming, exercising and towel drying.
Avoid strong, midday sunlight (between 11:00 and 15:00 hours).
No product provides 100% protection; so do not stay in the sun for too long. Not possible? Then wear clothing for extra protection: hat, t-shirt and sunglasses.
Always keep babies and young children out of full sunlight.
Do not use ALHYDRAN with sun protection in cases of
Known allergy to one of the constituents.
Open wounds, or skin perforated by stitches that has not yet healed.
Infected skin (and, do not use on the eyes).
Chronic rash or other skin irritation.