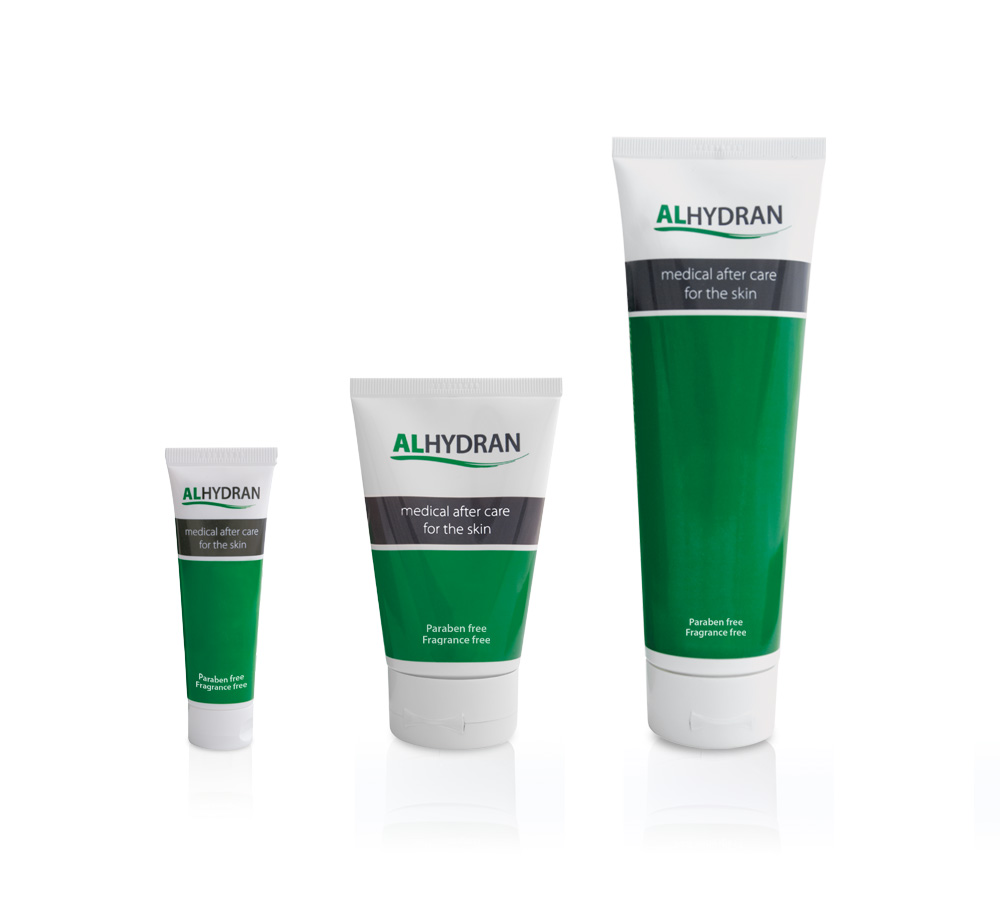 Medical cream specially developed for after care of the skin, immediately after wound closure. Alhydran is used for treatment of disrupted skin barrier.

Ensures optimal long-lasting hydration

Prevents moisture loss

Less itching, pain and redness

Actively reduces (new and existing) scars

Protection and softening of the skin
Hydrating cream for treatment of disrupted skin barrier
ALHYDRAN 30 ml (1 fl. oz.)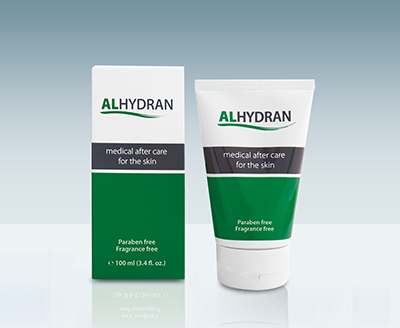 ALHYDRAN 100 ml (3.4 fl. oz.)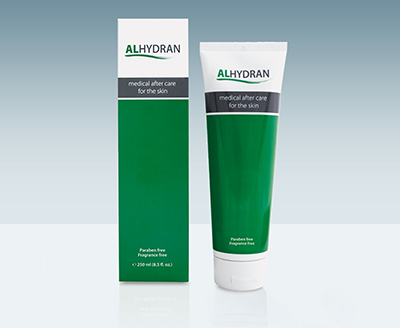 ALHYDRAN 250 ml (8.5 fl. oz.)
Medical hydrating cream. Ensures optimal, long-lasting hydration and prevents moisture loss. Ideal for treatment of disrupted skin barrier. Suitable for (after)care of burn wounds, treatment and prevention of scars, treatment of (extremely) dry skin and reduction of redness and itching.
ALHYDRAN is hypoallergenic and contains no parabens or fragrances. Suitable for all skin types. Not tested on animals.

Clinically Proven

Hypoallergenic

Hormone + Perfume Free
Indications / fields of application
Aftercare of recently healed skin following acute and chronic wounds.
Aftercare of damaged skin, in order to prevent scarring.
Improves the condition of existing scars resulting from burn wounds.
Prevents and reduces itching and pain immediately after skin has healed closed.
Reduces eczema symptoms.
Aftercare of burns, in particular skin care, immediately before and after wearing pressure garments and/or silicone dressings.
Aftercare of wounds caused by freezing.
Preventive skin care during oncological and radiation therapy.
Aftercare of skin grafts and skin transplantation donor sites.
Preventive care of red/dry skin and stretch marks.
Aftercare following chemical peeling and laser treatment.
Aftercare following medical and cosmetic surgery.
ALHYDRAN is a medical cream with a base of 100% fresh Aloe Vera Gel. Aloe Vera gives the cream strong moisturising properties and a mildness particularly suitable for damaged and vulnerable skin.
The other ingredients of the ALHYDRAN product line contain a high level of high-end natural oils and antioxidants, which further contribute to the unique and long lasting moisturising characteristics of the product. ALHYDRAN makes the skin supple and elastic, and is particularly suitable for skin types with reduced elasticity.
The product is extremely mild and tolerated by a wide range of skin types. ALHYDRAN does not stain, and is water-washable.
ACTIVE INGREDIENTS
Aloe Vera
Intensive and long-lasting hydration
Vitamine E
Antioxidant
Vitamine C
Antioxidant
Natural oils, like Jojoba oil
Enhances skin's regenerative properties
How to use ALHYDRAN Medical Hydrating Cream
Apply a thin, even layer of ALHYDRAN three times a day – in the morning, at midday and in the evening.
ALHYDRAN may be used without limitation (for years, if required).
Do not use:
If there is an allergic reaction to one of the ingredients.
On open wounds, or skin perforated by stitches that has not yet healed.
On infected skin.
On chronic rash or other irritated skin.